About
Delishhh is a food blog written by Ewa [eva], a happy Swede living in Seattle, WA.  She has a passion for healthy, simple, delicious and fun recipes.  She not only enjoys sharing her recipes , but travel tips, restaurants reviews and other fun stuff!
She believes in 100% Organic foods and GMO Free.  She is a bid advocate for GMO labeling and that people should know what is in their food.
Nothing makes her happier than hearing from folks about her recipes.  Being a native of Sweden, she always bring a sense of Swedish to everything she does.  She can't help it, it's part of her DNA.
To expand her blog and her passion for Scandinavian flair she also has an on-line boutique where she sells timeless, edgy, unique and handpicked products – Splendid Avenue.
If you would like to read more here is Ewa' story!
Why Delishhh?
I was always saying that something was delish and I thought that it would be the perfect word to start by blog with but just extending the word to delishhh!
Photography
I take all my pictures unless specified.  I use a Canon EOS XS Rebel SLR camera. If you would like to use any of my pictures please contact me.
Recipes
If you use any of my recipes please link back to me and add a note saying the recipes is coming from Delishhh. I would love to hear from you too.
My Button
Please click on the button for instructions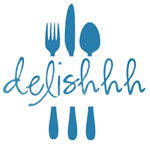 Contact
If you have any questions please contact me:
Email: info [at] delishhh.com or you can also contact us by filling out the form below.
Facebook: http://www.facebook.com/delishhh
Twitter: http://www.twitter.com/delishhhblog
StumbleUpon: http://www.stumbleupon.com/stumbler/delishhh
Flickr: http://www.flickr.com/photos/delishhh
Google+: gplus.to/Delishhh
Pinterest: http://pinterest.com/delishhh/
Store: http://splendidavenue.com